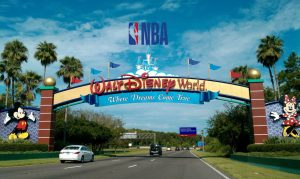 The NBA is back after a 5-month hiatus and set to restart the 2019-2020 season on Thursday at the Walt Disney World Resort near Orlando, Florida, with a TNT doubleheader: Utah Jazz vs. New Orleans Pelicans and Los Angeles Clippers vs. Los Angeles Lakers.
The league shut down on March 11 when — just moments before the Utah Jazz were to take on the Thunder in Oklahoma City — it was learned that Jazz center Rudy Gobert had tested positive for Covid-19.
Twenty-two of the league's 30 teams will take part in the season restart. Earlier this week, the league and players' union announced that none of the 344 players who have been tested since July 20 tested positive for Coronavirus.
Each of the 22 teams in Orlando will play eight "seeding" games that will constitute the close of the regular season, at which point the top seven playoff seeds in each conference will be locked. As for the No. 8 seeds, if the No. 9 seed is within four games in the standings at the conclusion of the eight seeding games, there will be a playoff for the final spot, with the No. 9 seed having to beat the No. 8 seed twice. Once the playoffs start, it will be business as usual: four rounds, seven-game series. If all goes well, the NBA Finals will conclude within the first two weeks of October. As for story-lines to watch for, there are plenty. Hundreds, if you really want to go that deep. But we won't do that. We'll focus on the big ones, and there are indeed plenty of those as the playoff, and the ultimate championship chase feels more wide open than at any point I can recall, particularly in this unique environment. It genuinely feels like anything could happen.
Since the NBA opted to create a "bubble" at the Disney World Resort to reduce the risk of Coronavirus exposure, only two players have tested positive — and that was between July 7 and July 13. NBA Commissioner Adam Silver has said if an outbreak occurs and the virus begins spreading around the NBA campus, he would have no issue with shutting the season down.
Let's hope that's not the case and the NBA has a better first week inside their Orlando bubble than Major League Baseball has endured globetrotting throughout the United States, as all 30 MLB teams attempt to play out their 60-game shortened season within their own cities & stadiums.
By Jrobertiko – Denis Adriana Macias, CC BY-SA 3.0, https://commons.wikimedia.org/w/index.php?curid=11429622