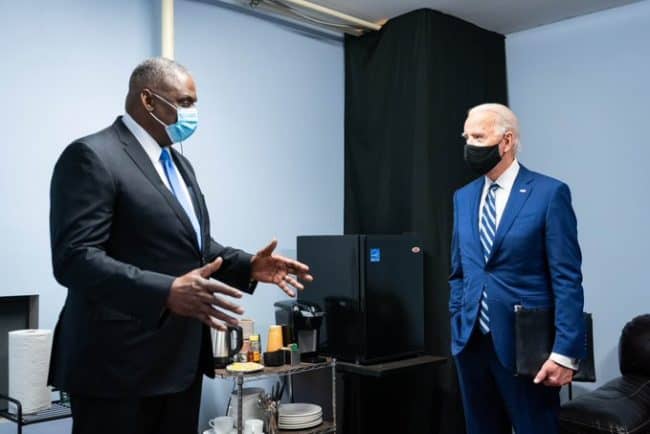 On Thursday, the Senate confirmed retired Gen. Lloyd Austin as the defense secretary of the nation. This is the first time a black person has assumed such a high office.
In December, Biden had confirmed Austin as his choice for the post calling him a "true and tested soldier and leader."
Austin has had a long relationship with Biden, both personal and professional. As the first Black commander of the US Central Command, he spent many hours with Biden, who was vice president when Obama was president, in the situation room.
Biden's son, Beau Biden served on Austin's staff in Iraq, when he was with the National Guard. Both of them used to attend Sunday Mass. Austin described Beau as a "very special person"  and a "true patriot." He also described him as a "good friend." Beau Biden died in 2015.
Lloyd Austin is a native of Alabama. He graduated from West Point the United States military academy. In 1975 he was commissioned as a second lieutenant in the army. He served with distinction for years and was awarded a Silver Star in 2003, during the Battle of Bagdad.
He had an illustrious career and some of its highlights include leading the Army's 3rd Infantry division as well as the 10th Mountain Division.
He led the XVIII Airborne Cops and commanded troops in Iraq as well as Afghanistan. He also became the first Black director of the Joint Staff at the Pentagon. He retired in 2016.
There were a few initial misgivings on his nomination which Austin sought to dispel in his confirmation address to the Congress. He sought to alleviate their concerns. Both the House of Representatives and the Senate approved a waiver that was required to clear him for nomination to the post. On Friday morning the Senate confirmed him as the secretary of defense. The voting was 93 -2 in his favor.
Photo Credit Twitter
It's an honor and a privilege to serve as our country's 28th Secretary of Defense, and I'm especially proud to be the first African American to hold the position. Let's get to work. pic.twitter.com/qPAzVRxz9L

— Lloyd Austin (@LloydAustin) January 22, 2021