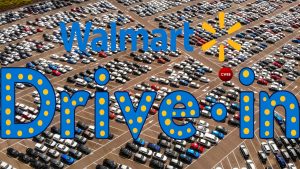 Family drive-in movies are back as Walmart Inc. NYSE: WMT Walmart Forms Partnership with Tribeca turning 160 store parking lots into drive-in theaters. Starting in early August, NYSE: WMT Walmart is popping up safe, socially distanced drive-in events at Walmart Super Centers across America.
Drive-in movie goers   will have   a  socially distanced big-screen experience. It is a safe way for the whole family to enjoy movies under the stars outside due to the Coronavirus pandemic. Movies will be shown  from August to October with Tribeca programming the films. Concession foods will be available to one's vehicle.
We reiterate our stock price on Walmart Inc. NYSE: WMT to $300 per share.   Walmart has a Market Cap $350.5 B and a dividend of yield of 2.16%.
As of July 2, 2020 Walmart, Inc. (NYSE:WMT) is trading at 119.79, close to the 52-week high of 133.38. There's good reason this stock can reach over $300.00 per share. Walmart Inc. (NYSE:WMT) has a market cap of 363.56B. Walmart Inc. (NYSE:WMT) has paid out a $0.54 dividend per share on 2/18/2020.
Walmart Inc. (NYSE:WMT) trades at 23 times forward earnings and pays a forward dividend yield of 1.9%. Dividends have increased annually for 45 straight years. Costco has a higher forward P/E of 38 but pays a lower forward yield of 0.9%. with an increased dividend annually for 16 straight years. Walmart Inc. (NYSE:WMT)'s price-to-earnings ratio is only 15.69% versus Costco's 29.87%.
Walmart Inc. NYSE: WMT is a behemoth operating not only as a grocery store and also as a pharmacy. There is not a consumer staple product that Walmart Inc. NYSE: WMT does not sell. Walmart Inc. (NYSE:WMT) also offers financial services such as check cashing, wire transfers, and bill payments.
It is pretty evident that the stock market and economy will be on edge for many months to come due to COVID-19. Walmart Inc. (NYSE:WMT) has been hiring many workers due to increased demand due to the pandemic. The stock has shown resiliency during this time. Walmart has plenty of cash from operations to manage their near-term interest expenses.
Doug McMillon is president and CEO of Walmart Inc. Doug  McMillion is the chairman of the Business Roundtable, an association of chief executive officers of America's leading companies. He serves on the boards of directors of the Consumer Goods Forum, the U.S.-China Business Council and Crystal Bridges Museum of American Art. He also sits on the American Workforce Policy Advisory Board and the advisory board of the Tsinghua University School of Economics and Management in Beijing, China.
Doug McMillon was named president and CEO in 2014. From 2009 to 2014 he was president and CEO of Walmart International, and from 2005 to 2009 he served as president and CEO of Sam's Club. He has worked at Walmart for nearly 30 years.
Top 6  Institutional Holders
Holder   Shares   Date Reported   % Out       Value
Vanguard Group, Inc. (The)                   137,634,260               Mar 30, 2020           4.86%       15,638,004,621
Blackrock Inc.         90,196,443                     Mar 30, 2020           3.18%       10,248,119,853
State Street Corporation                             70,902,390                     Mar 30, 2020           2.50%       8,055,929,551
FMR, LLC                           22,899,929                     Mar 30, 2020           0.81%       2,601,889,932
Geode Capital Management, LLC                             21,186,737                     Mar 30, 2020           0.75%       2,407,237,057
Bank of America Corporation           20,967,213                     Mar 30, 2020           0.74%       2,382,294,741
Top  Five Mutual Fund Holders
Holder   Shares   Date Reported   % Out       Value
Vanguard Total Stock Market Index Fund                           41,720,918                     Mar 30, 2020           1.47%       4,740,330,703
Vanguard 500 Index Fund                       29,203,838                     Mar 30, 2020           1.03%       3,318,140,073
Vanguard Specialized-Dividend Appreciation Index Fund 18,031,710                     Jan 30, 2020               0.64%       2,064,450,477
SPDR S&P 500 ETF Trust 15,691,981                     Mar 30, 2020           0.55%       1,782,922,881
Vanguard Institutional Index Fund-Institutional Index Fund                     12,554,461                     Mar 30, 2020           0.44%                               1,426,437,858
NYSE: WMT      CWEB Analysts view the stock as a long term growth and a great addition to your investment portfolio with an upward momentum of $500 by 2021