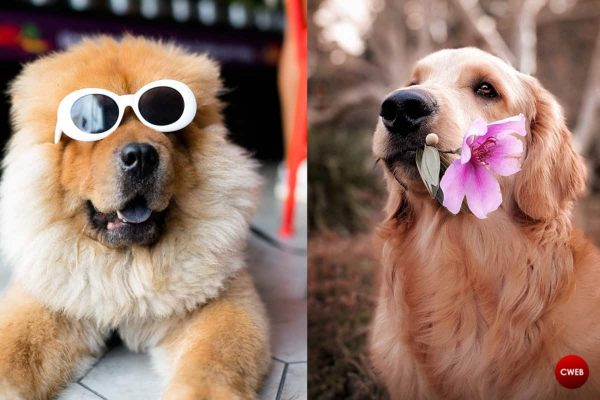 Monsoon is a time when pets are prone to contracting infections. The constant rain and humidity tend to leave them uncomfortable and sick very often. It could be an unpleasant experience for them every year.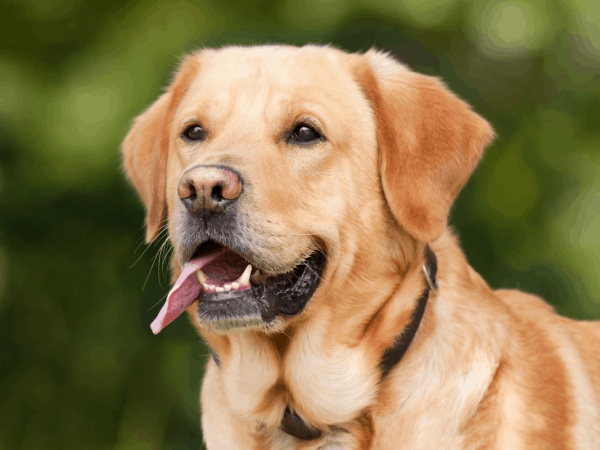 Source: pixabay.com
1. Fungal and Bacterial Infections
Bacterial and fungal infections are widespread during the monsoon weather due to humidity levels. The most common among these infections are leptospirosis and fungal dermatitis. The chances of developing these infections are higher for dogs with thick and long fur and those who have sensitive skin. Typical symptoms of the infection include fever, inflammation of the mucous membrane, lethargy, skin allergies, nasal discharge.
Bacterial and fungal infections usually spread when you take your dog for a walk in the rain or a park where the water has not dried properly. It transmits through contact with standing water like in puddles, streams, or ponds, which tend to encourage the growth of algae and microorganisms.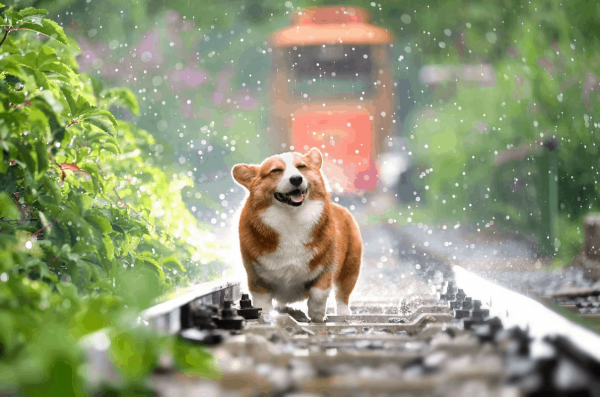 Source: pixabay.com
Ensure that your dog does not get in this water or drink it. If your pet is a naughty one, use dog collars and leash to stop them from wandering into the contaminated water.
As a general rule of thumb, bathe your dog with a good quality body wash every 2-3 days to ensure good hygiene and prevent infections from spreading. Make sure to dry them properly without leaving the fur wet or moist.
If you think your pup has a bacterial or fungal infection, consult your doctor. Veterinarians might prescribe anti-bacterial, and anti-fungal cream or body wash along with other medications to eliminate the infection.
2. Flea or Tick Bites
Flea and ticks are parasites that cling on to the dog and produce eggs while feeding on them and inducing several infections.
The change in temperature during monsoon promotes the infestation and reproduction of fleas and ticks that could be dangerous. Also, there is a significant reduction of immunity in dogs during this season, making them prone to developing a serious infestation within a short time.
Dogs could contract these parasites while playing or roaming outdoors with other animals or in grass or shrubs. Fleas and ticks are a huge problem because they can contract infections to humans as well.
Source: pixabay.com
There are easy ways to spot this particular problem since dogs try to scratch a specific part of their body where the infestation is spreading. You might also notice biting or chewing of skin, red irritated skin, scabs, hair loss, rashes, and erratic behavior.
You can take simple precautionary measures like regular vacuuming and planting herbs such as rosemary in the garden to reduce the chances of flea growth in the environment. If your dog is infested, take recommendations from your vet to understand the best topicals, oral medication, flea powders, or body washes targeted towards killing these insects.
3. Stomach or Intestine Infections
Stomach infections are a problem throughout the year. But the lack of sunlight and added stress weakens your dog's immunity.
Monsoon is also when there is little or no exercise at all due to the constant rains. It can lead to some form of stomach infection. Indigestion and poor bowel movements are common concerns during this weather. Contaminated food or water contribute to stomach troubles.
The best way to prevent stomach and intestine infections is to ensure that a clean source of fresh drinking water is available to your dog. Boil water and cook food properly before giving it to your furry buddy to avoid tummy troubles.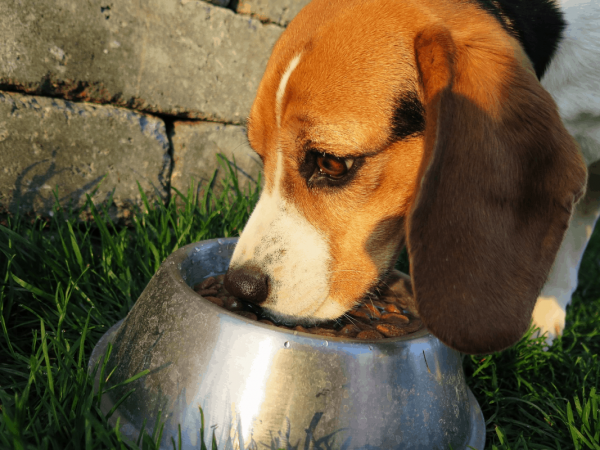 Source: pixabay.com
Increase fiber-rich foods in their diets. It helps to improve bowel movement and supports digestion that can also increase nutrition absorption for enhanced immunity. Try to avoid non-vegetarian foods to reduce the chances of stomach worms and indigestion. Keep them active around the house if they cannot play outside.
If this problem persists, contact your vet. They might prescribe deworming tablets since dogs are more susceptible to stomach worms that could be causing these infections.
4. Kennel Cough
Ever noticed your dog releasing a weird sound while coughing? Factors like rain increase humidity levels that, along with stress, can lead to the development of kennel cough. Kennel cough is mostly caused by bacteria naturally present in dogs that become pathogenic due to the change in moisture levels and temperature.
Symptoms of the condition include transparent discharge from the nose, wheezing cough, crusts, loss of appetite, and excess dehydration. These symptoms must not be ignored, especially in older dogs, as the problem could turn fatal.
Source: pixabay.com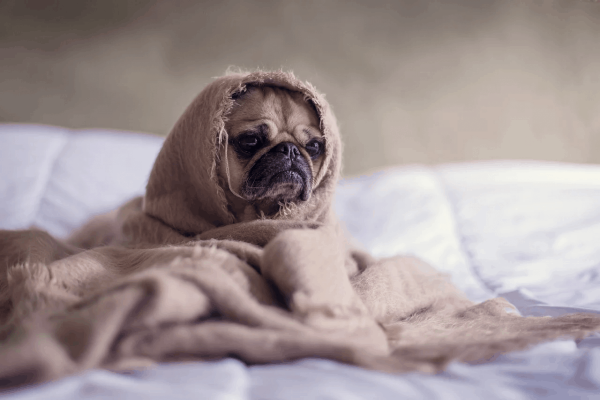 Sanitation plays a crucial role in preventing the spread of Kennel coughs. Make sure to keep their kennel clean and disinfected regularly. Ensure proper air circulation to keep the place dry.
Kennel cough is caused both by viruses and bacteria. Hence your vet may prescribe antibiotics to improve the situation to attend to the secondary bacterial infection. They may also suggest the use of cough suppressants if the symptoms are severe.
5. Behavioral Changes
A lot of behavior changes occur in dogs as they grow up. If your dog has never experienced thunderstorms, monsoon might be especially difficult.
It is common for young pups and dogs to get confused and scared during this time, increasing stress levels. Some owners also report their pets being lethargic, refusing to go outside, hiding under tables or sofas, whimpering, barking, or howling.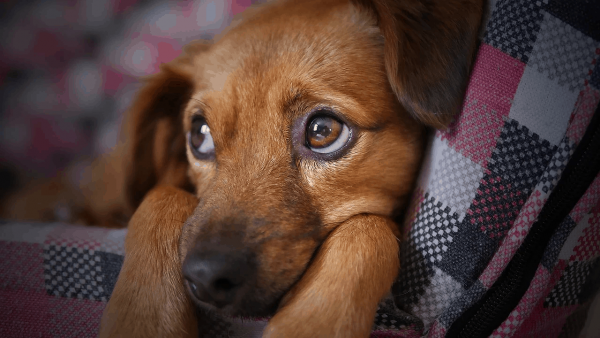 Source: pixabay.com
It is best to stay with your dog during thunderstorms to help them face the situation. You can give them treats to encourage positive behavior.
Some dogs love the rains and might be overjoyed and get excited to go for a walk. While it is good to take them out, keep them under leash to ensure they do not drink water from anywhere outside or behave out of control.
Conclusion
The onset of monsoon could be challenging for your pet's health with increased chances of infections, respiratory problems, and other ailments. Ensure to take the requisite precautions before the weather sets.
Take them to the vet to deworm and administer all the necessary vaccines. Preparing your pets to face the rainy season will make sure they stay in good health and glee.
But with the right precaution and timely assessment of infections and diseases, it is possible to give them a rather fun season to enjoy.
Photo by Celine Sayuri Tagami on Unsplash
Photo by alan King on Unsplash