Finding tasty healthy snacks free of allergens is important but it can be difficult if your child has a food allergy. You're always checking food labels and ingredient lists for the little cautions that normally begin with –"may contain traces of this and that" which you look for regularly.
Even a small amount of an ingredient that your child is allergic can cause life-threatening symptoms with severe food allergies.
Food producers have been developing items that make life easier for consumers with food allergies in response to the rising prevalence of food allergies in youngsters. Some restrict a single allergy, such as peanuts, dairy, soy, and wheat, while others do so in addition. Snacks without allergens make living with food allergies less worrisome.
What's ok for someone may not be for others. So yes, you have to scrutinize all the labels and find what works for your child. Some products that say allergen free may still contain and ingredient your child is allergic to. Below we will offer some alternatives that are affordable and most important so tasty that you'll find yourself eating them too.
Keeping allergy free snacks in your child's lunch box at school is a great way to insure that he or she will not get an allergic reaction. And, if your child has allergies it's best to talk to the no dietitian at the school so they are aware of what to serve at lunchtime. It's also important to have a discussion with your child about his allergic condition to certain foods they understand exactly what they can eat so they won't get sick. If your child is attending an after-school activity make sure that you provide extra snacks so the temptation to choose other snacks  that contain allergic ingredients your child cannot eat are readily available.
We all know the healthiest foods are pure natural foods like fruit and vegetables that are organic. Sometimes fruit and vegetables do not always stay fresh in your child's lunch box. Here are some alternatives where your child can get some healthy snacks without worrying about spoilage.
Here's a few items to store in your cupboard at home and in your child's box.
LENTIL CHIPS Dairy Free Cheddar Chips are free of 14 allergens. the healthy life brand also has many products that are free of allergens low in sugar and offer very tasty treats your child will love. Chips come in a wide variety of flavors to choose from.
SOFT BAKED COOKIES Sunseed™ Butter Chocolate Chip Sunseed™ Butter Chocolate Chip soft baked cookies combine the deliciously nutty flavor of sunflower seed spread with Enjoy Life's famous dairy-free chocolate chips for an allergy-friendly treat that stands out from the crowd. This vegan friendly cookie is Verified non-GMO and contains our own special gluten-free flour blend for a delightfully soft texture.
BREAKFAST OVALS Berry Medley are a healthy choice for breakfast on the run or even a 2nd breakfast later in the morning when your child gets to school for an extra energy burst. Food is fuel and kids need energy to get through the day.
GoGo squeeZ Applesauce, Apple Berry, 3.2 Ounce (48 Pouches), Gluten Free, Vegan Friendly, Unsweetened Applesauce, Recloseable, BPA Free Pouches. Applesauce on the Go made from 100% fruit in portable, BPA-free, squeezable pouches. Unsweetened applesauce pouches made from 100% fruit, kosher certified, non-GMO project verified, gluten free, nut free, dairy free, no added colors, flavors, or high fructose corn syrup.
GoGo squeeZ AlmondBlend Pudding, Chocolate, 3 oz. (20 Pouches) – Almond Pudding Kids Snacks – Pantry Friendly Snack – No Preservatives – Gluten Free Snacks for Kids. SMOOTH & CREAMY PUDDING SNACK POUCHES: GoGo squeeZ AlmondBlend Pudding is made with almonds and chocolate flavor and has 30% less sugar than traditional dairy pudding.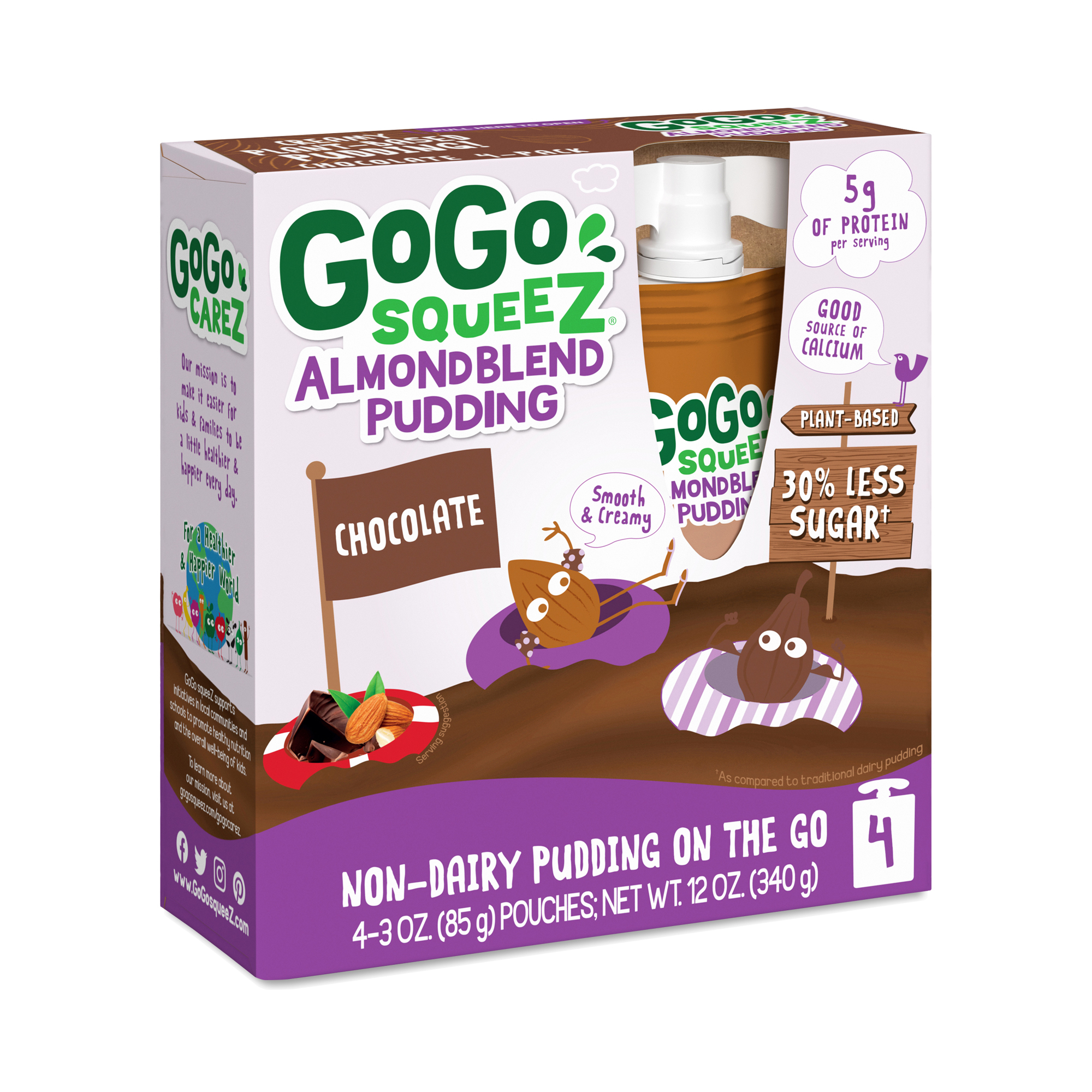 Instead of reaching for a candy bar or a sugary fruit bar with added sugars choose this product instead.
Stretch Island Fruit Leather Snacks Variety Pack, Cherry, apple, strawberry, apricot, grape, and raspberry flavors.
Crackers and chips always satisfy hunger when you're on the run. They also can stay fresh for days and are perfect for a quick munch before your kids head out to after school sports or paired with their lunch instead of greasy potato chips and salty sugary snacks.
RW Garcia 3 Seed Organic Sweet Potato Crackers bring something new to the table. Great with any topping – our nutritious ingredients include North Carolina Beauregard Sweet Potatoes (prized for their exceptionally sweet flavor), stone ground corn and a trio of seeds blended together to make a delicious gluten free cracker. Free Of Gluten and GMOs.
Trader Joes 3 Seed Sweet Potato  crackers ingredients are simple. They include, yellow corn, corn oil, and/or sunflower oil, sweet potato, flax seeds, black sesame seeds, chia seeds,  and sea salt.
Annie's Gluten Free Bunny Grahams taste like cookies and kids love them. Some even put these tasty treats in milk or add a few to a morning cereal. GLUTEN FREE BUNNY COOKIES: Made with white and brown rice flour and yellow corn flour, these bunny-shaped cookies are a great addition to lunch boxes or after school snacks. Check the labels on Annie's as all products are not listed as organic. Some of the ingredients may or may not be organic. Nevertheless, they are a better alternative than anything with corn syrup and products containing gluten.
Teaching your child to eat healthier foods at home is a prudent step for them to eat healthy throughout their life. Just because kids may be allergic to certain candies and cakes and other types of foods it doesn't mean that they can't enjoy sweets and eat the same types of foods they may have allergic reactions to- minus the bad ingredients. There's always an alternative recipe for a food that may be on a restricted list for your child to eat. Always check the labels before purchase to make sure here are no allergens you are trying to avoid.
Sensible Portions Sea Salt Garden Veggie Straws are a perfect lunch bad addition. They also come in larger bags so you can divvy the sizes up if you have more than one child. Made with garden-grown potatoes and vegetables 30% less fat than the leading brand of potato chips*0mg cholesterol and 0g trans-fat per serving, Certified Kosher and gluten-free.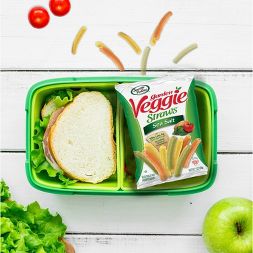 Disclaimer- CWEB.com does not take any advertising for the brands listed above.
In another Celebrity News update Fashion House ParisJewelry.com has started manufacturing new custom line of celebrity jewelry products with 30% Off and Free Shipping.