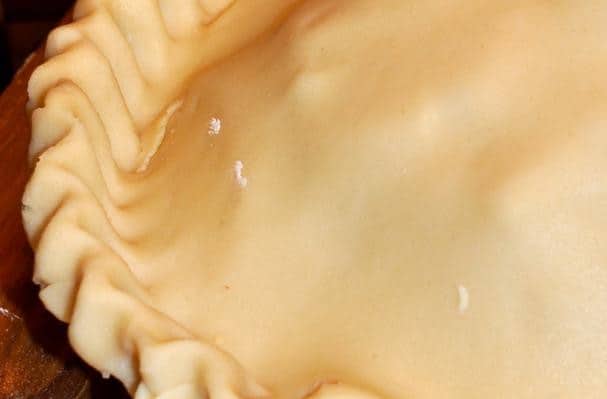 A snippet from bottomlesskitchen.com: "So why are there so many recipe variations for plain ol' pie dough? Since dough is basically just flour, water, and fat…striking the "perfect" combination of ingredients has been sought after by many for years. The idea is to create a crust that is flakey & fine textured (use shortening instead of butter), but not lacking flavor (don't use ALL shortening), and definitely not one that is heavy & overpowering (all lard), since that raises health concerns about the effects of animal fat."
Preparation
1. Combine the flour, 
salt,
 and sugar in a food processor.
2. Add shortening, pulsing until you achieve a sand-like texture
3. Add butter, pulsing for about 10 seconds, until you achieve a coarse crumb-like texture with butter bits no larger than the size of a pea.
4. Transfer mixture to a medium bowl.
5. Sprinkle 4 tablespoons of 
ice 
water over the mixture.
7.
Press 
the dough downwards from the sides until the dough sticks, adding up to two more tablespoons of water if necessary.
8. Divide the dough into 2 sections, flattening into four-inch disks. 
Wrap
 in plastic 
& refrigerat
e for at least one hour, up to two days, o
r freez
e.
.