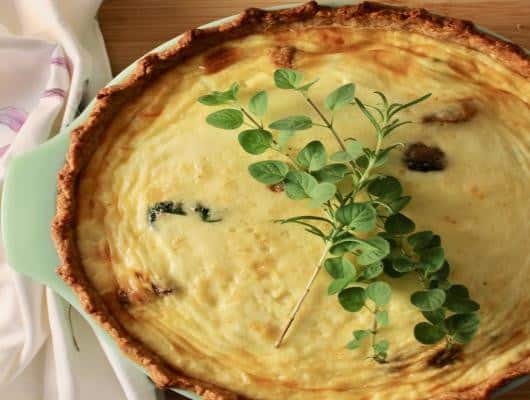 Packed with flavor, this bacon, mushroom, and spinach quiche is sure to please.  The firm but creamy, cheesy filling is balanced with a crispy crust.  When you add in fresh sautéed vegetables and crispy fried bacon it's a whole new level of deliciousness.
Ingredients
6 slices bacon
4 oz. mushrooms, chopped
½ medium onion, diced
2 large handfuls fresh spinach
Fresh ground salt and pepper
½ cup shredded Swiss cheese
½ cup shredded Monterey jack, or Italian blend cheese
4 eggs
1 cup heavy whipping cream
1 cup half & half
¼ tsp. creole seasoning
¼ tsp. more salt
Unbaked 10″ pie crust (store bought or homemade)
Preparation
1. Preheat oven to 425 degrees F.
2. Cook cut up bacon until crispy in a skillet, then set aside.
3. Sauté mushrooms, onion, and spinach in bacon grease until tender and spinach wilts. Salt and pepper to taste while cooking.
4. Sprinkle bacon, vegetables, and cheese in pie crust.
6. Whisk in cream, half and half, and seasoning. Pour over cheese and vegetables in pie pan.
8. Reduce heat to 300 degrees F. and bake for 30 more minutes until a knife inserted 1" from the edge comes out clean.
9. Let stand 10 minutes before cutting.