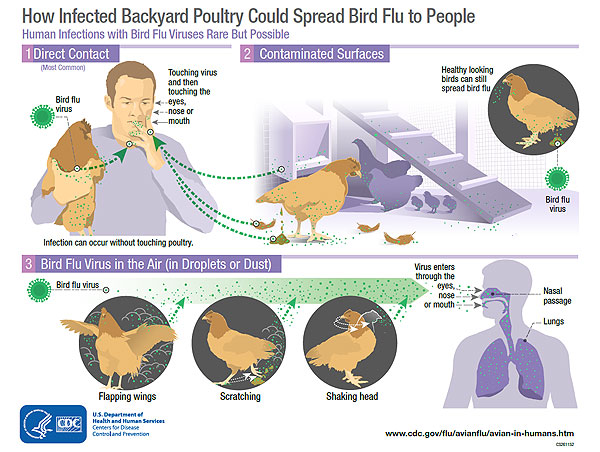 The infection of seven Russian farmworkers with a  lethal  virus among birds solidifies the need for close monitoring to avert another disaster, a new study says.
101,000 hens died in a farm southwest Russia this past  December.  The tests performed  quickly found the  H5N8 strain of avian influenza virus.
Global Spread of the Highly Pathogenic H5N8 Avian Influenza Virus Is a Serious Public Health Warning. The emergence of a new virus and global spread of the highly pathogenic H5N8 avian influenza virus (AIV), a pathogen has caused ongoing outbreaks with deadly outcomes in both wild and farmed birds across Eurasia and Africa in 2020, is a major public health concern.
"Weifeng Shi and George Gao discuss the emergence and zoonotic potential of the H5 AIV lineages. Shi and Gao argue that vigilant surveillance and rigorous infection control measures for these emerging viruses are critical to avoid further human spillovers that could result in new and devastating pandemics". Reports Sci Tech Daily
This is very alarming as the first human cases of H5N8 infection were first reported last December.
H5 avian influenza viruses
The H5 subtype of avian in fluenza viruses can be phylogenetically subclassified into clades and subclades according to their sequence similarity to the hemagglutinin (HA) gene (numbers in circles). Several of the H5 clades have caused human infections, and in particular, clade 2.3.4.4b was circulating across Eurasia and Africa during 2020 and caused human infections in Russia. Reports Science Magazine
Because of the long-distance migration of wild birds, the innate capacity for reassortment of AIVs, the increased human-type receptor binding capability, and the constant antigenic variation of HPAIVs, it is imperative that the global spread and potential risk of H5N8 AIVs to poultry farming, avian wildlife, and global public health are not ignored. Therefore, surveillance of HPAIVs in poultry farms, LPMs, and wild birds should be restored to the level before the COVID-19 pandemic or higher.
Source: World Health Organization, "Influenza update – 388" (2021);