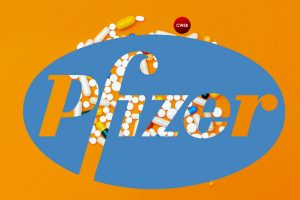 Pfizer Inc. (NYSE: PFE) reports  if the vaccine gets regulatory approval, it expects to make up to 100 million doses by year-end and "potentially" more than 1.2 billion by the end of 2021. Pfizer shares reached up  4.6% on the news, respectively BioNTech's U.S.-listed shares rose 7%.
"We are encouraged by the clinical data of BNT162b1, one of four mRNA constructs we are evaluating clinically, and for which we have positive, preliminary, topline findings," said Kathrin U. Jansen, head of vaccine research and development at Pfizer, in a release.
Pfizer Inc. (NYSE: PFE) and BioNTech SE (Nasdaq: BNTX)  announces preliminary data from the most advanced of four investigational vaccine candidates from their BNT162 mRNA-based vaccine program, Project Lightspeed, against SARS-CoV-2, the virus causing the current global pandemic. The BNT162 program is evaluating at least four experimental vaccines, each of which represents a unique combination of mRNA format and target antigen. The manuscript describing the preliminary clinical data for the nucleoside-modified messenger RNA (modRNA) candidate, BNT162b1, which encodes an optimized SARS-CoV-2 receptor binding domain (RBD) antigen, is available on an online preprint server at  https://www.medrxiv.org/content/10.1101/2020.06.30.20142570v1 and is concurrently undergoing scientific peer-review for potential publication. Overall, the preliminary data demonstrated that BNT162b1 could be administered in a dose that was well tolerated and generated dose dependent immunogenicity, as measured by RBD-binding IgG concentrations and SARS-CoV-2 neutralizing antibody titers. Source Pfizer
Pfizer quarterly corporate performance – second quarter 2020 announcement  will take place on July 28, 2020 10:00 AM.
Pfizer's new CEO ALBERT BOURLA, DVM, PH.D.  nets $17.9M in 2019 pay after drug maker beats all financial targets. During his more than 25 years at Pfizer, Albert has built a diverse and successful career, holding a number of senior global positions across a range of markets and disciplines. Prior to taking the reins as CEO in January 2019, Albert served as the Pfizer's Chief Operating Officer (COO) beginning in January 2018, responsible for overseeing the Company's commercial strategy, manufacturing, and global product development functions. Source Pfizer
Pfizer earned $52.4 billion in revenue for 2019, ahead of the company's target of $51.7 billion. Adjusted diluted earnings per share stood at $3.00, versus the $2.81 goal. Cash flow also exceeded the benchmark of $11.6 billion to reach $12.9 billion.
There are five FDA-approved antivirals  that assist in  COVID-fighting potential. These drugs come from from Roche, Gilead Sciences,  and Bristol-Myers Squibb Company (BMY) NYSE.
CWEB Analysts see  Pfizer Inc. (NYSE: PFE)as a potential  for long term growth and a great addition to one's portfolio and upward of $150 by 20121