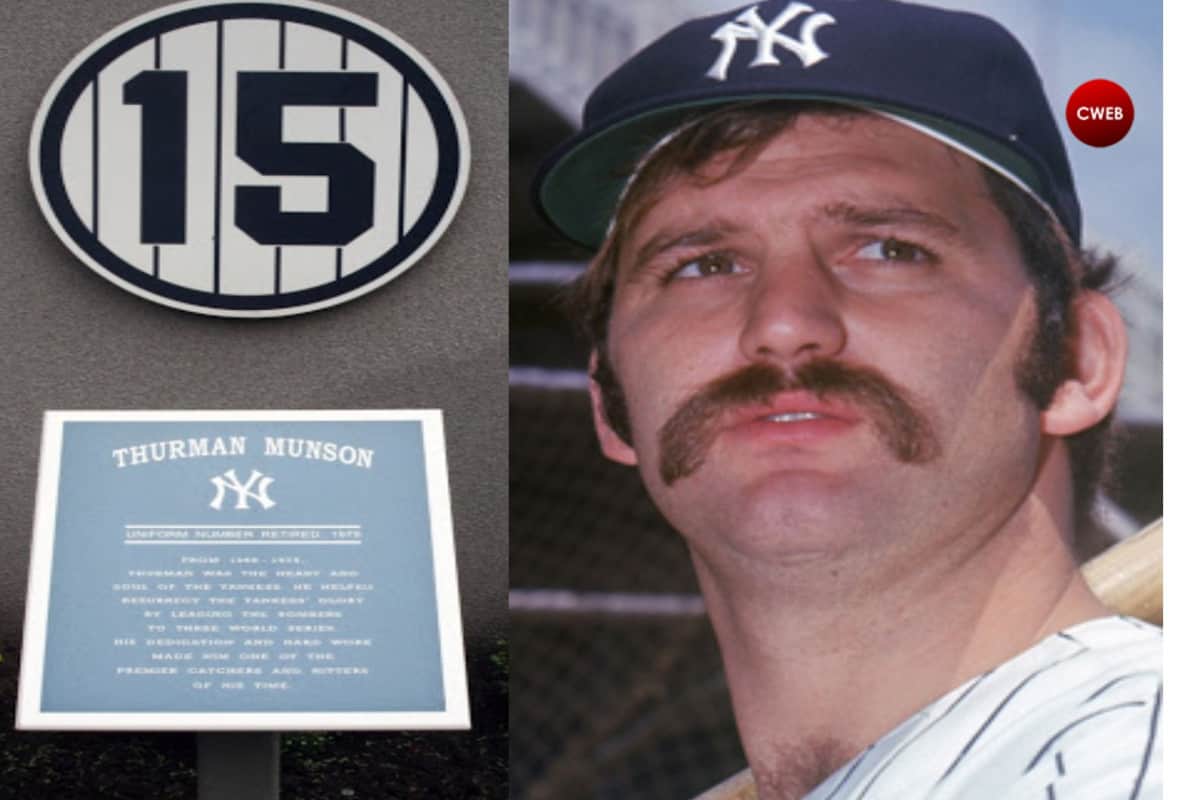 Like most young kids I loved & played baseball and I was lucky enough to attend lots of Los Angeles Dodgers games as a child. Even though I was never a New York Yankee fan as a kid, I was always in awe of guys like Thurman Munson. The Yankees during the '70's were like cool hip rock stars. They had swagger & style and since there were only a handful of TV networks televising Major League Baseball games once or twice a week, the Yankees had a certain mystique about them. 
They were so popular within our culture, there were several shaving cream, after shave, deodorant, shampoo commercials flooding our TV sets and who could forget all those hilarious Miller Lite Beer commercials. The Yankees were even frequently talked about on NBC's Saturday Night Live, which broadcasted from New York City. 
There's was one member of the Yankees who always stood out to me and it was their big burly catcher, Thurman Munson. He was their leader and he was their team captain. He was an All Star. He had World Series Championship rings. He had a big thick mustache, curly hair sprouting out from his baseball cap & helmet, and he had a million-dollar smile.
Back in those days, the Yankees didn't have the "no facial hair & long hair rule" as they do today, but I'm sure glad they didn't, because that's what mostly drew my attention to the Yankees from those commercials — their style & sense of humor. If you didn't live in New York, you probably hated the Yankees because they were so good & flamboyant, but it was very difficult not to like or love their team captain. 
Munson was considered one of the best & well-known backstops in MLB. He was respected by all his teammates and peers and they called him "Tugboat". He could hit a baseball with the best of them. He was one of the best catchers in MLB and a gun for an arm. He was tough as nails on the field. He was a big ole teddy bear off the field. 
He won the Rookie of the Year Award in 1970. He was a 7-time All Star during his 11-year career. He won 3 consecutive Gold Gloves in 1973-1975. He was the AL MVP in 1976. He won back-to-back World Series Championships in 1977 & 1978 beating my beloved Dodgers. 
He is the first player in MLB history to be named a College Baseball All-American and then in MLB win the Rookie of the Year Award, MVP Award, Gold Glove Award, and World Series Championship. 
Unfortunately, we lost Thurman Munson to an untimely death when his small airplane crashed and killed him on August 2, 1979 at the tender age of 32. 
During an off day in the summer of 1979, Munson died while practicing landing his Cessna Citation aircraft at Akron-Canton Airport. He suffered a broken neck as a result of the crash, and his cause of death was asphyxiation. The Yankees honored him by immediately retiring his Uniform number 15 and dedicated a plaque to him in Monument Park inside Yankee Stadium.  
Thurman Munson's untimely death is one of those that I'll never forget where I was and what I was doing when I found out – on a summer day riding bikes outside with friends from the hood and my best friend's Mom yelled the horrific news to us from her kitchen window, "Thurman Munson died in a plane crash!"
This can't be I thought. I just saw him play recently. I just read his daily stats in the newspaper. I didn't even know he flew airplanes. I cried. I wept and all I could think about was how unfair this is, and all I could see through the blur & stream of tears falling down my cheeks, was the image of his smiling face in that famous black & white New York Yankees baseball cap & helmet. 
Thurman Munson was & is everything we teach young baseball players how to play the game today. He was a living icon and the world lost a true baseball warrior & hero. He was the king of the Yankees and one of a kind, and there will never been anyone like him.
Whitey Ford Dies at 91: Beloved Yankees Pitcher Who Confounded Batters