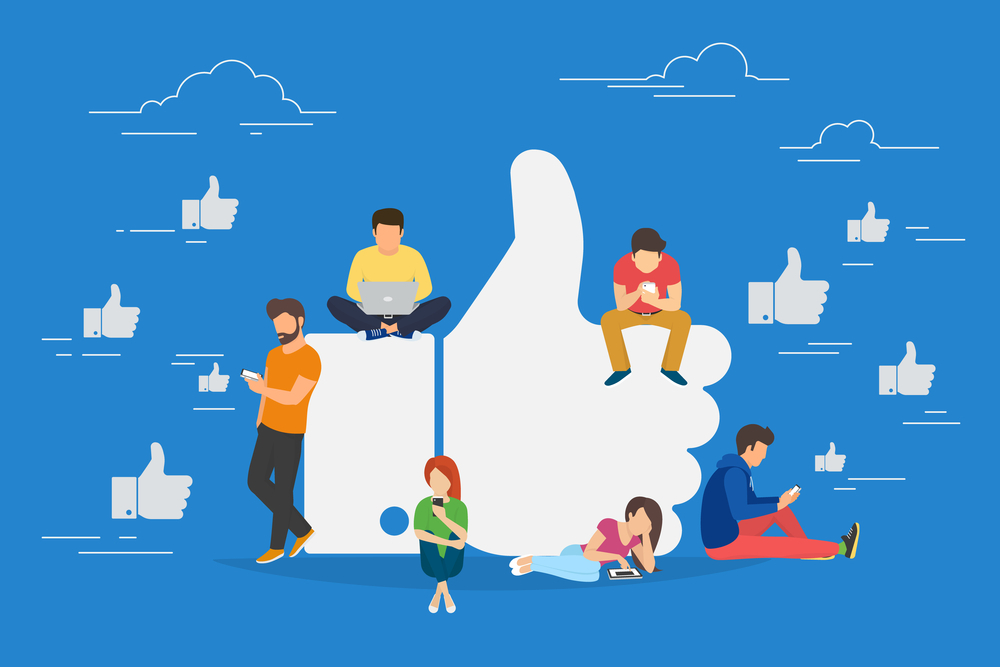 Social media channels are changing drastically with each passing day. New utilities and tools are continuously introduced in the market, which adds more convenience to the ways of connection. Thus businesses need to have a strong presence on social media platforms. They must track and maximize their online marketing performance to reach more customers on these advanced platforms.
Statistics show Market leader Facebook to surpass 1 billion registered accounts and has more than 2.6 billion monthly active users. The company also owns four of the biggest social channels, all with more than 1 billion monthly active users.
Image: (Source)
However, another social media platform like Linkedin, Twitter, and many more has millions and billions of users worldwide. The number is growing steadily. Most of us can't imagine our life without social media these days; people spend more than 30 minutes on one or another social media platform each day. Hence it's the right digital platform for your taxi business to drive more customers.
Image: (Source)
Marketing through different social platforms is the best way to attract more audiences. Every platform offers you a different and wide range of opportunities for advertising your business. All you need is to promote, plan and implement practical promotional activities, ads, deals, promos, and other content that helps to sell.
The Taxi-hailing business is ambitious, and there are numerous opponents in this segment. And it's estimated to grow more in the next few years. Some operate locally, while some business giants like Uber and Lyft cover the whole market. With the growing competition in the market, it became essential for you to differentiate your brand from others. You need to provide quick access to your customers, and social media plays a crucial role here.
Explore to Know How You to Enhance Taxi-hailing Service Through Social Media
Businesses need to stay updated with the growing trend by opting for advanced trends for their business. Multiple trends are going to affect your social media marketing in the upcoming years. Thus ride-hailing giants who want to enhance their presence on social media and want to leverage competitive advances through social media marketing need to consider the listed below trends for their campaign.  
The Taxi-hailing business is competitive these days; hence Uber prefers to spend around a million dollars on marketing to leverage the fruitful result. The ride-hailing giant covers around 69% of shares in the US alone. Undoubtedly the key industry player Uber also has to spend millions on marketing to grab customers' attention in the market.
Image: (Source)
Advertising involves different factors that need to be performed to promote your business. However, social media marketing is pocket-friendly. But Before adhering to any taxi booking app, techniques, or tools, it's a better option to get support on social media channels. You get the chance to choose from multiple strategies and ideas. However, marketing your taxi business on social platforms doesn't require any technical knowledge or high skills.
You can begin with the primary idea to reach your potential customers with ads, posts, or another content type. It will help you make your service familiar to customers, let them know about the best deals, and much more. Just follow a few of the essential steps to starting marketing on the social platform, this includes:
Create a ride-hailing business account;

Create service page;

Segment your potential customers;

Update content to keep your customers engaged;

Show customers what you have to offer;

Convert customers into business leads;
Having an online presence is vital for ride-hailing businesses in today's competitive business world. Besides having a ride-hailing solution for your business, you need to promote your business on social channels.
Create your social account to create awareness and make your customers familiar with your services. The success of your business depends on the creativity and marketing strategy you choose. Build a plan and start promoting your ride-hailing business on social media; follow a few of the trends listed below to leverage the desired result.
Influencer Marketing
One recent research shows that more than 59% of marketers are planning to increase their influencer marketing budget. Every entrepreneur knows well that most people prefer to check feeds about a particular product or service before purchasing the safe.
Image: (Source)

They even take the advice of their friends, family, or any other person whom they trust the most. They even prefer to go through various social media platforms for checking the review of your ride-hailing service, drivers, etc. Thus taxi-hailing businesses collect more positive reviews about their business on social platforms.
Provide Quick Access to Booking Platform
It is widespread that people prefer to shop online; what's new is that they also use social media platforms to purchase their favorite brand and book services. If any active social media users want to book a ride, they will immediately look for a ride-hailing brand that offers such a service on social platforms. Thus if you aim to increase your business sales and profit, then definitely consider selling on social media platforms.
Enhance Customer Service
Ride-hailing businesses can improve their customer service by having their presence on multiple social media channels. They can quickly solve their customer's doubts and queries in real-time and convey them to become loyal ones for their brand ever after. 
Even they use the latest chatbot technology to handle their customers in the most effective ways. They can ask the developer to implement chatbots to their business website to solve their doubt of your potential customer as early as possible in real-time.
Use Content to Get Connected with Customers
When you are trying to communicate with your audience using social media, it becomes essential for you to use the right content. You need to generate content that attracts your customers and convey them to book your ride-hailing service. Design content keeping your targeted audience in mind, question yourself:
How can your content help you to answer the queries of your potential customers?

Which type of content will help to engage more customers?

What response will you get through the content?
Once you get all answers, you can quickly generate content that helps you drive more customers.
Wrapping It Up
There are many other trends that ride-hailing businesses can consider to enhance their social media campaign. By considering the trends mentioned above, entrepreneurs can quickly achieve their targeted goal in less time. It can help them know what their prospective customers expect from them and how they can meet their demand in the most accurate way to make loyal ones for their brand.